Al Rosson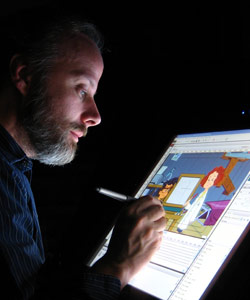 Hi, I'm Al Rosson.
I've been a professional animator and cartoonist for nearly 25 years. I have had the great fortune to work with so many wonderfully talented people. My career has given me the opportunity to work for Warner Bros., Disney, Klasky Csupo and many others. I have also had the chance to travel and work with many talented artists overseas. All my life, I've had a tremendous interest in the history of the moving image. Not quite as much for the exact dates and names (although I do find that interesting too) as I do for the development of the technology itself. From the simplest antique optical toys to the latest big screen blockbuster 3D spectacle, I find the evolution of the process endlessly fascinating!
I also have a great interest in the history and development of radio and television, phonographs and music boxes. As well as the history of show business, particularly Vaudeville and the world of the great stage magicians. Also, any kind of mechanical gizmos that amazed or delighted people from days gone by, I'm interested in it. Sometimes to the point of attempting to build one!
My father started to teach me to draw and paint at a very early age and I've always been so grateful for that experience and the lasting impression it made upon me. My mom, a beautiful soprano soloist gave her kids a taste of what it was like to perform before an audience. Whatever success I have enjoyed in my career in art and animation I owe to them. I try to combine all of my experience and interests into the things I build or create.
This website is basically a place for my brothers and sister and I to play and create fun and goofy things that we can put up that hopefully will entertain or amuse. Thank you for stopping by and we hope you enjoy!